Patología de las Cooperativas de Producción Rural – Evidencia de Irán
Mohammad Akbari Dolatabad

Isfahan University of Technology, Irán

Mohammad Sadegh Ebrahimi

Isfahan University of Technology, Irán

Amir Mozafar Amini

Isfahan University of Technology, Irán
Palabras clave:
cooperativa de producción rural, formación, patología, Irán
Resumen
Las empresas cooperativas de producción rural son uno de los tipos más importantes de sistema cooperativo en Irán. Sus actividades se han iniciado desde 1963. Parece que este sistema de cultivo no ha sido capaz de convertirse en una fuente de desarrollo positivo hasta la fecha. El presente estudio busca evaluar la patología de las cooperativas de producción rural. La población estadística de esta investigación es de 55 cooperativas rurales de la provincia de Isfahan con 21213 miembros, de las cuales 41 cooperativas con 16870 miembros están activas. El método de recolección de información fue documental y encuesta. La información requerida para esta investigación se ha recopilado mediante el método de la biblioteca, así como mediante entrevistas y cuestionarios. El método de muestreo se clasificó aleatoriamente en función del número de socios de cada cooperativa en función del tamaño de la muestra. Con base en la fórmula de Cochran, se seleccionaron 217 muestras de socios y 98 muestras de gerentes de empresas cooperativas de producción. Los resultados de la investigación muestran que las cooperativas de producción rural no han tenido mucho éxito. La patología de las causas del fracaso de estas cooperativas muestra que factores como las características psicológicas de los socios, Las características gerenciales desfavorables, así como factores sociales como la confianza en la participación, influyen en el desempeño inadecuado de las cooperativas. Además, los resultados de la investigación muestran que la educación no ha logrado que las cooperativas sean más efectivas. Asimismo, la falta de capital social es la principal razón de la ineficiencia de este tipo de cooperativas de producción.
Recibido: 22 december 2021
Aceptado: 28 october 2022
Descargas
La descarga de datos todavía no está disponible.
Citas
ABEBAW, D and HAILE, M. G. 2013. The impact of cooperatives on agricultural technology adoption: Empirical evidence from Ethiopia. Food Policy 38(1): 82-91. http://www.sciencedirect.com/science/article/pii/S0306919212001030
ALSTON, J. M., and PARDEY, P. G. 2014. Agriculture in the global economy. J. Eco. Perspect. 28(1): 121-146.
ARAYESH, M.B. 2017. The Relationship between Extension Educational and Psychological Factors and Participation of Agricultural Cooperatives' Members (Case of Shirvan Chardavol County, Ilam, Iran). International Journal of Agricultural Management and Development (IJAMAD), 7(1):79-87.
AREF, F. 2011. Agricultural Cooperatives for Agricultural Development in Iran. Life Science Journal. 8: 82-85.
BIGLERI, N., Medicine Rad, Gh. 2013. And when you thought, n.º Strategies for Empowering Production Cooperatives from the Perspective of National and Provincial Experts, Economic Research and Agricultural Development of Iran 1 (44): 113-103.
BOUDLAIE, H., BOGHOSIAN, A and PANJALI, H.M. 2018. The impact of corporate social responsibility and internal marketing on employee turnover intentions with the mediating role of organizational commitment, 15(4): 29-44.
BRISCOE, T. 2010. Making worker cooperatives effective in South Pacific. J. Pacific. Stud. 16: 243-248.
CELIK, A., METIN, I. and CELIK, M. 2012. Taking a photo of Turkish fishery sector: a swot analysis. Procedia Soc. Behav. Sci. 58: 1515-1524.
CENTRAL ORGANIZATION OF RURAL COOPERATIVES OF IRAN. 2019. Systems of formation and establishment of cooperatives of rural production, agricultural joint stock, agriculture and industry in the agricultural sector (first edition), Asrar Alam Publications, Tehran.
DELGADO, C. 2007. Agro industrialization through institutional innovation: Transaction Costs, Co-operatives and Milk-Market Development in the Ethiopian highlands. Int. Food Policy Res. 1:101-110.
DERR, J. B. 2013. The Co-operative movement of Brazil and South Africa. Sustainable Development, 1, 1-14.
EBRAHIMI, Mohammad Sadegh, and MOJTABA GHAEDIYAN. 2021. "Corporate social responsibility and organizational commitment in agricultural cooperatives: evidence from Iran". International Association of Cooperative Law Journal, no. 59 (December), 263-83. https://doi.org/10.18543/baidc-59-2021pp263-283.
EFTEKHARI, A., PORTAHERI, M., FARAJZADEH, M. and lawyer HEYDARI, S. 2009. The Role of Empowerment in Agricultural Development, Case Study: Ardabil Province, Human Geography Research 69: 103-87.
FARYABI, M., AHMADVAND, M. 2017. The Determinants of Rural Production Cooperatives' Performance in South of Kerman Province. Journal of Rural Research, 8(3), 404-421. DOI: https://doi.org/10.22059/jrur.2017.63474.
GARNEVSKAA, E., LIUB, G. and SHADBOLT, N. M. 2011. Factors for successful development of farmer cooperatives in northwest china. International Food and Agribusiness Manage. Rev. 14 (4): 69-84.
GOLLIN, D. 2010. Agricultural productivity and economic growth, handbook of agricultural economics 4: 3825-3866.
GULEN, O. 2013. Women's cooperatives in Turkey. Procedia Soc. Behar. Sci. 81: 300-305. http://www.sciencedirect.com/science/article/pii/S1877042813014997
GRASHUS, J and SU, Y. 2018. A review of the empirical literature on farmer cooperatives: performance, ownership and governance, finance and member attitude. Annals of Public and Cooperative Economics, 12(4): 77-102.
HEIDARI, F., NADERI MEHDI, K., YAGHOUBI FARANI, A. and HEYDARI, A. 2015. Identification indicators of successful agricultural cooperatives, Quarterly Journal of Cooperatives and Agriculture 4 (14): 60-39.
ICA. 2016. SUSTAINABILITY REPORTING FOR CO-OPERATIVES: A GUIDEBOOK, International Cooperative Alliance, March, p. 32.
KALANTARI, Khalil. 2018. Data processing and analysis in economic and social research. Sharif Publications.
KHOSRAVIPOUR, B. and AHMADI, M. 2017. Rural Production Cooperatives (Challenges and Strategies). Management and Entrepreneurship Studies, 3(4-1): 69-82.
MOHAMMED, N. and LEE, B. W. 2015. Role of cooperatives in rural development, the case of south nation's nationalities and people region, Ethiopia. Sci .J. Bus. Manage 3(4): 102-108.
NAJAFI, M., NORI, H and AMINI, A. 2019. Assessing the Role of Management in Performance of Rural Production Cooperatives: (A Case Study of Isfahan Province). Iranian Journal of Agricultural Economics and Development Research. 50(3): 531-547.
NEKOUEI NAIENI, S., GHANBARI, Y., BARGHI, H. 2019. Assessing the Stability of Farming System in Rural Production Cooperatives in Isfahan Province and the Effective Strategies to Achieve it. Journal of Research and Rural Planning, 8(1), 111-126. DOI: https://doi.org/10.22067/jrrp.v8i1.72976
NORUZI, M. R and WESTOVER, J. H. 2010. Opportunities, Challenges and Employment Relative Advantages in the Cooperative Sector in Iran. Management Science and Engineering, 4(3): 10-18.
SADIGHI, H and DARVISHINIA, H. 2005. Farmers' Professional Satisfaction with the Rural Production Cooperative Approach. J. Agric. Sci. Technol. 7: 1-8.
SARMAD, Z., AS, BAZARGAN. and A., HEJAZI. 2017. Research methods in behavioral sciences. Agah Publications.
SIEGAL, G. 2010. Toward a model rural development quarterly. J. Soc. Econ. Dev. 5(12):106-117.
VINK, N. 2012. The long-term economic consequences of agricultural marketing legislation in South Africa. South African Journal of Economics, 80(4), 553-566
WORLD CO-OPERATIVE MONITOR. 2017. Exploring the Co-operative economy, Eurisce-ICA.
WOSSEN, T., T. ABDOULAYE, A. ALENE, M. HAILE, S. FELEKE, A. OLANREWAJU and MANYONG, T. 2017. Impacts of extension access and cooperative membership on technology adoption and household welfare. J. Rural Stud. 54: 223-233. http://www.sciencedirect.com/science/article/pii/S0743016716302790
ZARE SHAHABADI, A., HAJIZADEH MEYMANDI, M. And MOBILE KHALAJ, H. 2015. Socio-Cultural Factors Related to the Success of Production Cooperatives in Yazd, Social Development Quarterly 10 (1): 156-127.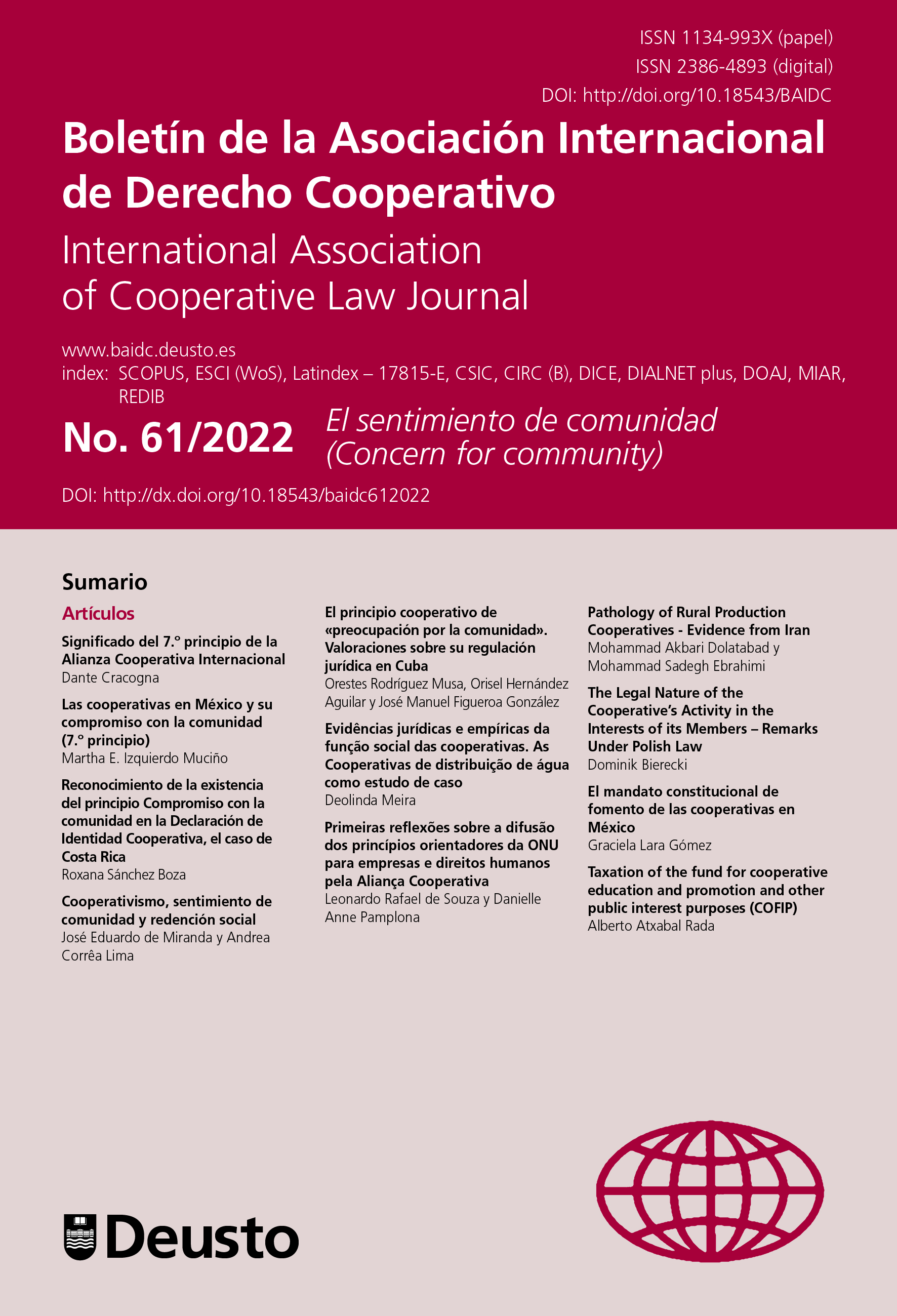 Cómo citar
Akbari Dolatabad, M., Ebrahimi, M. S., & Mozafar Amini, A. (2022). Patología de las Cooperativas de Producción Rural – Evidencia de Irán. Boletín De La Asociación Internacional De Derecho Cooperativo, (61), 167-184. https://doi.org/10.18543/baidc.2298
Los autores, mediante la entrega de sus manuscritos al Boletín de la Asociación Internacional de Derecho Cooperativo (BAIDC), aceptan las condiciones que se detallan a continuación sobre derechos de autor y se comprometen a cumplirlas. No firman ningún documento de cesión de derechos con la Editorial.
1. Autoría: El autor debe ser el único creador de la obra o debe actuar legalmente en nombre y con el pleno acuerdo de todos los autores.
2. Derecho de Autor y Código de conducta:
a) Los autores garantizan que su trabajo es original; que no ha sido publicados en cualquier forma anteriormente; que no está preparando su publicación en otra parte; que su envío y publicación no violan las directrices éticas de la Revista (BAIDC) ni los códigos de conducta, leyes o derechos de cualquier tercero; y que no se requiere el pago por la publicación por la Editorial (Universidad de Deusto).
b) Los autores conceden a la Editorial el derecho libre de pago para explotar y sublicenciar la obra en todo el mundo, en todas las formas y medios de expresión, ahora conocidos o desarrollados en el futuro, para los propósitos educativos y académicos.
c) Los autores retienen el derecho a presentar, exhibir, distribuir, desarrollar y publicar su trabajo para progresar en su carrera científica con la debida anotación de su publicación original en el BAIDC.
d) Los autores garantizan que no se han otorgado ni se otorgarán permisos o licencias de cualquier tipo que puedan violar los derechos otorgados a la Editorial.